AdClin Report Builder™ is a Microsoft Word® based application allowing instant inclusion and formatting of any number of tables, listings and graphs into submission-ready documents.
Tedious manual pasting of tables in reports is over
AdClin Report Builder™ has been designed to dramatically reduce the workload associated with including tables and listings into clinical study reports. Fully automated, it provides state-of-the art quality assurance, as results need not be manually reformatted (or even worse, retyped) into documents. Thanks to its simple, point-and-click interface, AdClin Report Builder™ brings an unmatched comfort of use for creating high quality documents.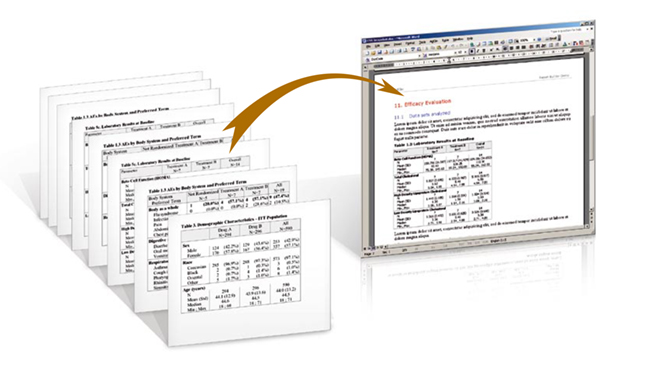 Unique Features
Mass integration of all tables and listings in Word documents, at their final location, with one mouse click.
Easy switch to landscape of tables or listings that do not fit in portrait.
Automatic and fully customizable pagination of tables and listings.
Advanced features such as automatic bookmarking for cross-references or instant renumbering.
Requirements
Microsoft Word® version 2000 or later.

Download the AdClin Reporting System leaflet

Download the AdClin Report Builder leaflet (FR)