AdClin Clinical Reporting System™
AdClin Reporting System™ is a clinical reporting solution based on an innovative approach, not bound to underlying tools limitations, designed to match the whole process for producing clinical reports. The results are great improvements of productivity, quality and validation, allowing users to stay focused on their business objectives.

Key Concepts
Streamlining the process from programming and statistics to medical writing: Our clinical reporting system software has been carefully designed to allow programmers, statisticians, medical writers and physicians to integrate their work and to stay in tune with their business objectives.
Freeing users from constraints due to database structures and underlying tools: whatever the database structure and the complexity of required reporting tables, AdClin Reporting System™ frees users to only spend their time on the true semantic, value-added part of their job.
Matching the requirements of various users in the organization, thanks to its modular architecture:
AdClin Reporting System™ in the Process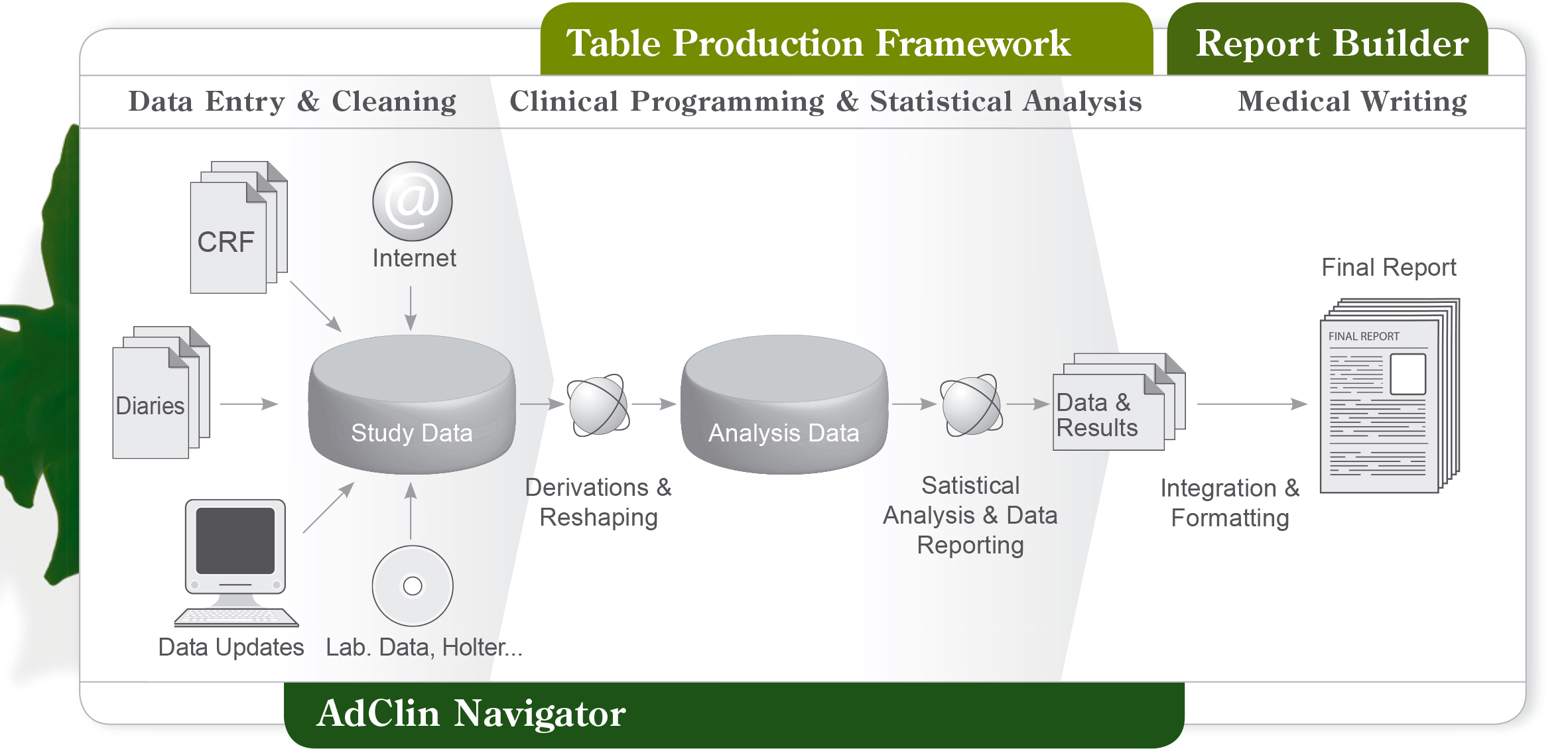 Unique Features
Easy Data Access: AdClin Navigator™ provides instant and comfortable data access, while AdClin Table Production Framework™ allows generating easily any kind of table or listing, that are then easily integrated into reports thanks to AdClin Report Builder™.
Increased Productivity: Lengthy manual operations are reduced to a few mouse clicks, and daunting programs turned into concise and safe macro invocations.
Better Validation: Data otherwise concealed in SAS® databases can be made available to all professionals involved in the clinical trial, regardless of their technical skills, and shorter programs make validation much faster.
Easy Integration: All modules integrate seamlessly into any existing process, can be rolled out extremely quickly, and are immediately usable and productive.